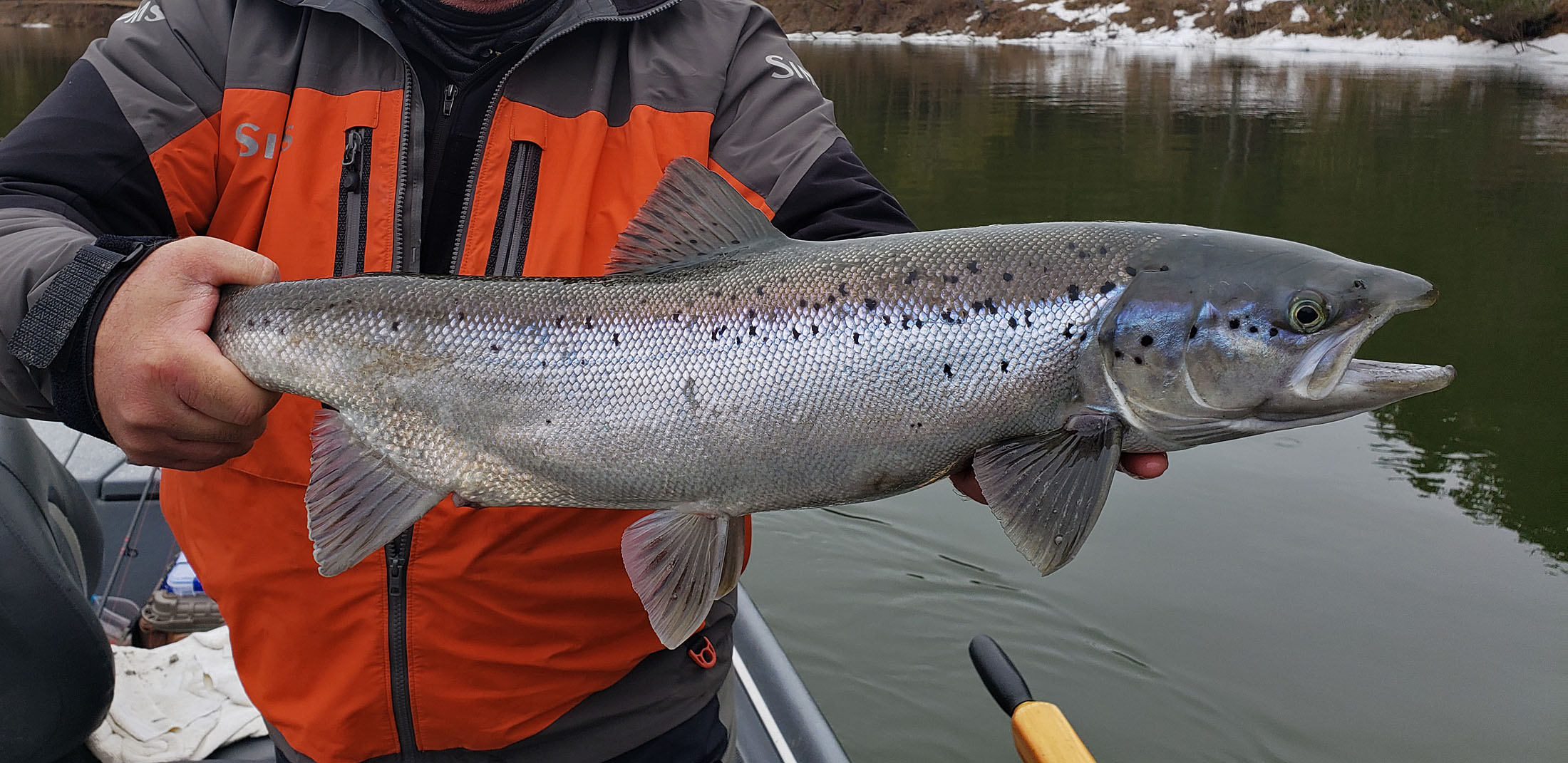 Lake Huron Smallmouth Bass
Our fishing guide service in Michigan provides a first class experience with veteran guides and high quality tackle. Our goal is to provide you the fishing experience of a lifetime. We target trout, salmon, steelhead, and other species. Year round fishing opportunities. Head guide Kelly Neuman has spent 25 years guiding the Au Sable River and other Michigan waters.
From winter steelheading to trophy browns and smallmouth bass in the summertime, we have fishing opportunities 365 days a year. Want to catch a big brown trout on a hex on the Au Sable or Manistee? Atlantic salmon on a swung streamer? How about King salmon on the Betsie River?

This fall we are expanding our lineup of bird hunting trips. We offer cast-and-blast as well as half-day and full-day bird hunting trips. Upland birds and waterfowl abound in our area. Nothing is more exhilarating than the rush of a flushed grouse or woodcock in the crisp autumn air or the sweet sounds of whistling wings in the wetlands. Combine bird hunting with our fishing guide service in Michigan.
Kelly Neuman's reputation as a true craftsman is well earned. He puts care and creativity into each rod he builds. Looking for the perfect rod with custom wrapping and guides? Winston and Sage blanks are his favorites but other options ar available. We can also design a custom combo for you complete with an Abel or Bauer reel.
We sell the same stuff we use for our fishing guide service in Michigan through our online fly shop. Custom Michigan and Great Lakes flies, Winston Fly Rods, Bauer Fly Reels, Airflo Fly Lines, C&F Design, Umpqua and Cliff Outdoors Fly Boxes and more. Great midwest specialty fly patterns.
From January to March, we head south to chase monster brown trout on Arkansas' famed White River. We have day trips and package deals for the trip of a lifetime. There is no better place to chase giant brown trout in North America.
Streamside Fishing Guide Service in Michigan
Our fishing guide service in Michigan is focused on fly fishing for trout, salmon, steelhead, and smallmouth bass in Northern Michigan.  We also have a full online fly shop with custom Great Lakes patterns along with custom rod building.